Welcome   
Better-World.dk is owned by Jan Kjær; a Danish journalist, photographer, development specialist, travel consultant and songwriter . 
Before returning to Europe I lived in Africa for six years and have done journalistic work involving the continent for more than 29 years.  
Now in Denmark, my experience and expertise have led to communication work and consulting for a.o., the Danish Ministry of Foreign Affairs and NGOs like DACAAR, MS/ActionAid Denmark, Danish People's Aid, Save the Children Denmark, IRCT and Danish Red Cross. 
As well as taking part in capacity assessment of Danish CSO-umbrella CISU in 2020; leading a communications team for EU-humanitarian operations in Tanzania in 2015; carrying out capacity assessments of International Media Support for Danida in 2012. 
From June 2007 to November 2018, I served as the chairman of "Globalnyt,", the Danish news site that focuses on developing countries. 
Prior to "Globalnyt", between 2009-2016, I acted as chairman of The Nairobi Club, the Danish network group of media professionals with development countries as their scope. 
In 2010 my expertise as travel consultant gave me the opportunity of writing the leading Danish travel guidebook on Budapest and Hungary. 
In 2019, I started performing as a singer and guitar player again. You can listen to a few of my more than 100 songs on this page. I write songs in both Danish and English and even one in Swahili. In 2021, I performed 28 concerts around Copenhagen and in Budapest. Concert in Dar es Salaam also in the pipeline.
Traversing the globe as a consultant has taught me the following languages: English, German, French, quite a lot of Swahili – and of course Danish, my mother tongue. 
Check my communication for development CV.
Updated News
In March and April 2022 reporting on the Ukrainian refugee crisis for Danish People's Aid and its European sister organisations in Samaraitan International. See  a story in German here.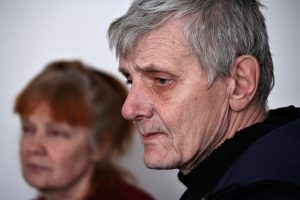 Articles in March, June and December 2021 issues of REVY, a Danish magazine for librarians at higher institutions of learning.
PR assignments and SoMe-articles for Tornager Kommunikation 2021.
Quality Assurance for TANA Consulting.
Articles about poverty in Denmark for Danish People's Aid summer 2021.
Carrying out capacity assessment and review of Danish civil society umbrella organisation CISU in collaboration with Jørgen Skytte and IMPAKT January to April 2020
Water and sanitation (Sustainable Development Goal 6) project with Danish People's aid and children book author Jesper Tornbjerg January to June 2020.
In 2021 24 concerts in Denmark and Hungary
Capacity building in Kabul March 2019
Working for the organization DACAAR January to October 2019.
Reporting from refugee crisis in Jordan 2018 and Lebanon and Iraq 2016.
Presenting "Reports for the vulnerabe" for the 3F seniorklub in Glostrup Sepetmber 2018.
Finished the book "Syv fantastiske folkehjælpere" in 2017.
Reporting from Kenya, Tanzania and Uganda 2017.
Reporting from Nepali earthquakes 2015 for major Danish Daily Ekstra Bladet.
Consulting for EU delegation to Tanzania January – March 2015.
Writing articles and taking photos from Kenya for Novo Nordisk June- July 2015.
Visited Philippines, Tunesia and East Africa in 2014 writing articles & shooting pictures of development activities.